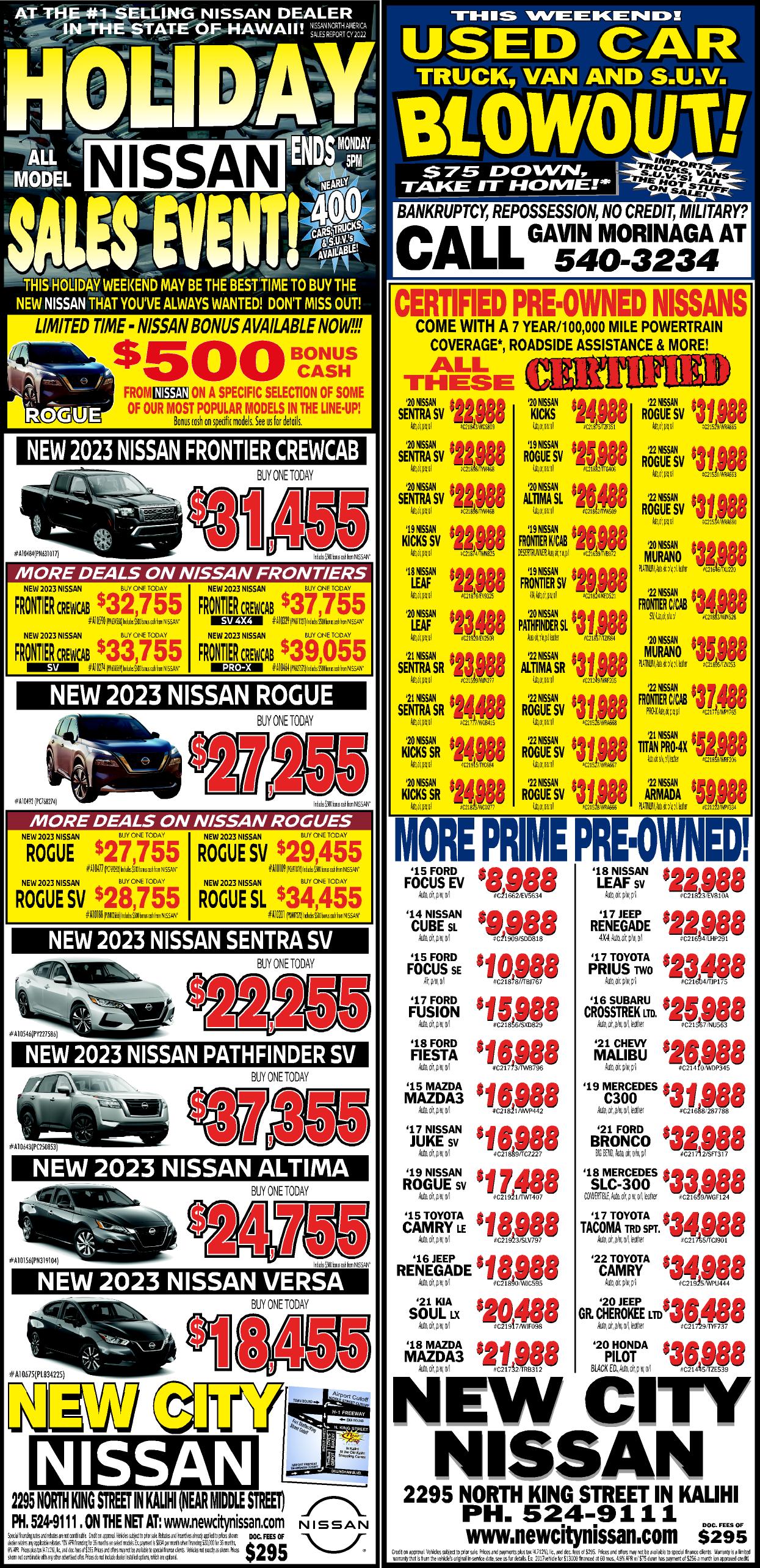 Weekly Specials of New City Nissan in Honolulu
Our Nissan dealership wants to make it easy for car shoppers to save, and we have the inventory and pricing to help you do so! We run weekly specials that you've probably seen in your newspaper, and these include new Nissan specials near Ewa Beach as well as used car specials that include many other brands. You can view this week's specials on this page, and, below, we provide general info about the models and savings you're likely to see when shopping with us!
Why Shop Our New Nissan Specials Near Waipahu
Our new inventory holds a wide range of cars, trucks, and SUVs as Nissan has one of the most diverse model lineups of any major automaker. We offer savings on all sorts of popular sedans and mid-size SUVs, and these are changing every week so that we can highlight the many new Nissan specials we have in store for you!
New Nissan SUVs Near Kapolei
Many drivers know that an SUV is what they need, and our new Nissan SUV specials are great for families and those looking to explore every bay and vista of the island. You can find many two-row Nissan SUVs, such as Nissan Rogue and the stylish Nissan Murano, and we also have deals on three-row SUVs, like the Nissan Pathfinder. Safety, capability, and comfort combine in every new Nissan SUV, and our specials make them even better values!
New Nissan Cars for Sale
Sedans and compact cars pack a lot of value, and that's especially true for those shopping our new Nissan car specials. We run many new Nissan Altima specials as there are a lot of drivers interested in this mid-size sedan that gets you further on one tank of gas while looking good doing it. If you want an even more affordable car, the new Nissan Versa is a compact that won't set you back much. We also have deals on new hatchbacks if you want a bit more rear-row headroom and cargo space in your new car.
New Nissan Truck Deals Near Schofield Barracks
Finally, we have a variety of new truck deals on Nissan models that are reliable and ready for whatever you ask of them. The Nissan Frontier is a great truck for the city as it isn't as bulky as some of the full-size trucks on the market. It excels when towing trailers or tackling low-traction driving situations, which are also strengths of the larger Nissan Titan. We have many Nissan Titan offers because this truck comes in a variety of cab sizes, but all are powerful. Plus, we have Nissan cargo vans to help businesses around Honolulu with all their needs!
Weekly Used Car Specials
Our weekly specials always include used car deals that we think many car shoppers will want to take advantage of. These used models include pre-owned versions of many of the models listed above, as well as other brands that we know drivers enjoy. If you want to save on a used Toyota car or a used Jeep SUV, be sure to check out our weekly used car specials or reach out to New City Nissan!
Contact Our Honolulu Nissan Dealership with Any Questions!
We love when car shoppers come to us with questions because we enjoy connecting drivers with a deal and model they'll enjoy. You also don't have to make your way to our dealership to buy a car. We have many resources for buying a car online, such as virtual presentations of the model and delivery to your doorstep! Our auto finance team is also here to help with online car buying as we can customize your deal to enjoy a new Nissan lease or used car loan that works for you!